Raspberries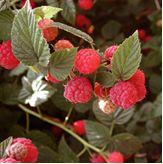 Raspberries are indigenous to Asia Minor and North America, and have been a food source for centuries. The Roman agriculturist Palladius wrote about their cultivation in the 4th century. No doubt their actual history precedes this date by hundreds if not thousands of years.
Ecological findings at Roman forts in Britain included raspberry seeds, which led to the assumption that Romans spread their cultivation in Europe. But King Edward I (1272-1307) was the first to call for the cultivation of these berries. Shortly thereafter, British gardens were full of raspberry bushes. By the 18th century, their cultivation had spread throughout Europe.
These succulent berries were long considered a luxury, as only the rich were able to enjoy the delicate fruits. By the middle Ages, the wild berries had many uses. Artists used the juice in both paintings and illumination of manuscripts. Physicians and herbalists recommended the fruit, leaves, and roots for everything from eye inflammations, boils, and fevers, to bowel problems and even bee stings. Midwives recommended leaf teas and extracts for treating pregnancy-related problems and to prepare a woman for labor.
They are a luscious fruit with a short shelf life. Lovers of the berry these days enjoy them fresh and prepared in every way imaginable, such as in baked goods, salad dressings, as a glaze for meats, and in desserts, beverages, sauces, and preserves. They are also frozen with or without added sugar.
Vitamins, Minerals, and Phytochemical Components
They are an excellent source of Vitamin C and manganese and are a good source of dietary fiber. They also contain Vitamin A, B1, B2, B3, folate, Vitamin K, magnesium, potassium, copper, calcium, and iron.
They rank near the top among fruits that are rich in antioxidant strength. These antioxidants are in the form of anthocyanins, ellagic acid, salicylic acid, quercetin, and catechins. Raspberries have an oxygen radical absorbance capacity (ORAC) rating of about 4900 per 100 grams, compared to 9000 ORAC units for wild blueberries, and 2800 ORAC units for apples.
Medicinal Uses Based on Scientific Studies
Coming Soon
Raspberries Nutrition Table

Return from Raspberries to Berries