Banana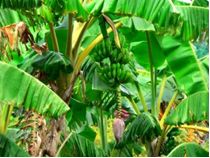 The banana is a popular fruit that come from an herbaceous plant belonging to the Musa family of plants. Although they are native to Southeast Asia and Australia, today they are cultivated in at least 107 countries throughout the world. There are two classifications of the fruit: the dessert varieties and the cooking varieties. The dessert fruit are typically soft and yellow and can be eaten raw when they are ripe. The cooking fruit are green, firm, and usually not eaten raw.
In India, the ashes from burnt leaves and pseudostems are added to curries and used as a substitute for salt. In the Pacific, the tree trunks are used to line the bottom of ovens and thus provide steam when cooking. In addition, the leaves and plant fibers are used in many countries such as Hawaii and Taiwan to make string, cordage, thread, and cloth and often woven into beautiful hats, bags, and baskets.
The plants are mainly cultivated for its fruit, which is usually soft, sweet, and eaten raw. However, they belong to a group of cultivars that can produce firm and even more starchy fruits called plantains. Plantains are usually cooked before they are eaten because of their firm texture and typically bland taste. In addition to raw fruit, they are also a popular snack food once dried. One popular form of the dried fruit is as chips. They can also be ground into flour that can be used for baking.
Cooked or raw green, yellow, ripe, and half-ripe they were consumed many years ago in the Pacific islands during the famine and are currently the largest source of consumed calories in the world. They are also used to make wine, beer, liquor, and vinegar.
Vitamins, Minerals and Phytochemical Components
They contain dietary fiber as well as vitamins A, alpha carotene, beta carotene, lutein, zeaxanthin, vitamins C, E, K, B6, B12, niacin, riboflavin, thiamin, folate, pantothenic acid, betaine, and choline. Minerals such as calcium, magnesium, iron, phosphorus, sodium, potassium, zinc, manganese, fluoride, copper, and selenium are also found.
Medicinal Uses Based on Scientific Studies
Coming Soon

Banana Nutrition Table

Return from Banana to Common fruit list