Hog Apple: Origins - Consumption - Nutrition Facts - Health Benefits
Contents
Geographic origin and regions grown
Common consumption today
Nutrition Facts: Vitamins, minerals and phytochemical components
Health Benefits: Medicinal uses based on scientific studies
Bibliography
Geographic Origins and Regions Grown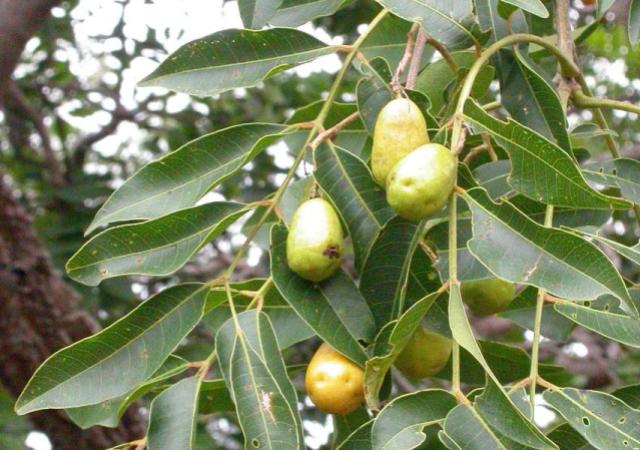 A member of the same botanical family as the golden apple, the hog apple originates and is still found today in most tropical American locations ranging from southern Mexico to Peru, Brazil, Costa Rica, Suriname and the Caribbean islands.  It is also grown in India, Africa, Indonesia and the southeastern US. 
When thinking of a delicious fruit, its various names already begin to stimulate one's taste buds. There's the yellow mombin or hog plum in the Caribbean, Spanish plum or gully plum is the Jamaican term, amra in Calcutta, India and hog or ashanti plum if you travel to Ghana. Other interesting names include Java plum, acaja, tropical plum, jobo, marapa, Jamaica plum, Spanish plum, acaiba, golden apple and thorny hog plum.
Common Consumption Today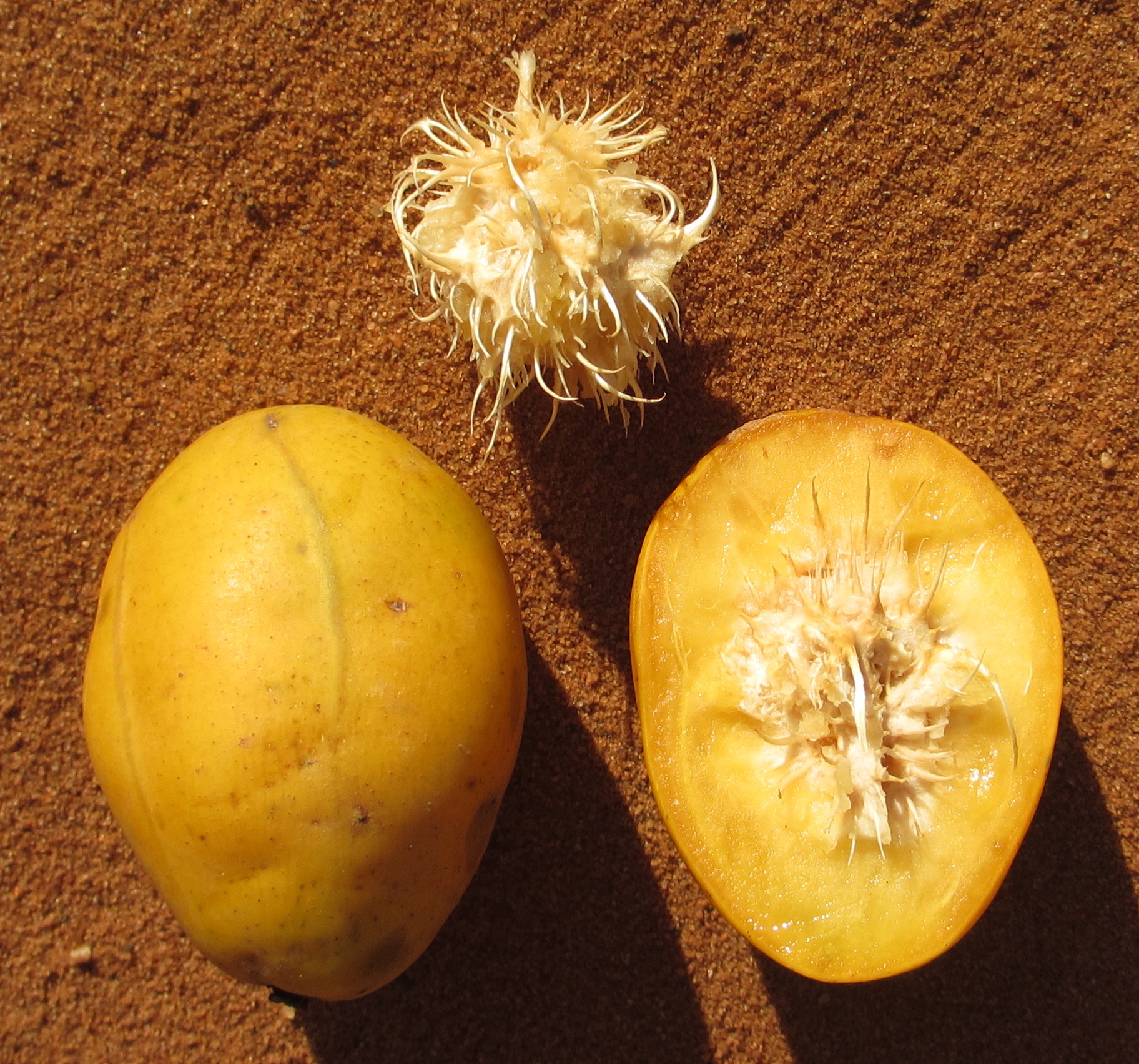 With great differences in size, shape, and flavor, the usually oval or round hog apple is less than two inches long and can have a deep red to yellow shade of color. The fleshy pulp is a bit acidic and spicy in flavor, yet still sweet and juicy. These fruits grow several (more than a dozen) to a cluster, and like their relative the mango, have soft skin and a large central pit. 
The yellow juicy pulp smells as delicious as it is sweet and is sometimes said to taste like a pineapple. Some find it to be an exotic or acquired taste, but it can't be that bad since the saying in Suriname is that once you have tried it you will certainly come back to Suriname. 
You may already be thinking about making a fruit salad, but hold that thought because hog apples are lightly sweetened. They are sometimes used in salads but more often are pickled. 
These fruits lend themselves well to poaching, pickling, drying, as jam, stewed with sugar, as a juice sweetened with sugar or perhaps as part of chutney added to a curry. The fruit juice is cooling and refreshing.
Most good fruits have one or a few seeds and the hog apple delivers with a large nut-like seed in the center. This particular fruit sports a leather-type skin and a thin layer of pulp. The pulp is eaten either fresh, made into juice, or concentrated into jelly or sherbet.
Unless you travel to locations that grow hog apples you will more than likely find out that they are unavailable freshly picked. That is because this delicate fruit is hardly ever exported due to its delicate nature.
The hog apple tree is usually quite tall, growing as high as 80 feet. The bark often oozes a resin that can be used as glue.
Nutrition Facts: Vitamins, Minerals and Phytochemical Components
The fruits are very rich in vitamins C and B1, and are a good source of calcium and phosphorus. Hog apples contain phenolic acids that are known to have health benefits. The seed has a moderate oil content of about 30 percent.
Health Benefits: Medicinal Uses Based on Scientific Studies
To treat eye inflammation, diarrhea with stomachache and venereal diseases, an infusion of hog apple leaves is beneficial (6). A recent study done at a university in Nigeria using mice and rats showed that extracts of hog apple leaves have sedative, antiepileptic and antipsychotic activity (3). 
Hog apple plant extracts have been used in Nigeria for worm control in livestock, and this effectiveness has been verified both in the lab and in sheep (2). Leaf extracts also show wide spectrum antibacterial effects that are comparable to the pharmaceutical antibiotics ampicillin and gentamycin, along with proven antiviral activity, supporting its traditional medicine use in treating illness (1), (4), (5).
Traditionally, the hog apple juice has been used to prevent heat-stroke, sun-stroke, motion sickness and nausea.
Bibliography
1. Abo KA, Ogunleye VO, Ashidi JS. (1999). Antimicrobial potential of Spondias mombin, Croton zambesicus and Zygotritonia crocea. Phytotherapy Research, 13(6), 494-7. 
2. Ademola IO, Fagbemi BO, Idowu SO. (2005). Anthelmintic activity of extracts of Spondias mombin against gastrointestinal nematodes of sheep: studies in vitro and in vivo. Tropical Animal Health and Production, 37(3), 223-35. 
3. Ayoka AO, Akomolafe RO, Iwalewa EO, Akanmu MA, Ukponmwan OE. (2006). Sedative, antiepileptic and antipsychotic effects of Spondias mombin L. (Anacardiaceae) in mice and rats. Journal of Ethnopharmacology, 103(2), 166-75.
4. Corthout J, Pieters L, Claeys M, Geerts S, Vanden Berghe D, Vlietinck A. (1994). Antibacterial and molluscicidal phenolic acids from Spondias mombin. Planta Medica, 60(5), 460-3. 
5. Corthout J, Pieters L, Claeys M, Berghe DV, Vlietinck AJ. (1988). Antivirally Active Gallotannins from Spondias mombin. Planta Medica, 54(6), 573.
6. Price, E. T. (1960). Root digging in the Appalachians: The geography of botanical drugs. Geographical Review, 50(1), 1-20.
Disclaimer
Nutritiousfruit.com provides this website as a service. Although the information contained within the website is periodically updated, no guarantee is given that the information provided is correct, complete, and/or up-to-date. The materials contained on this website are provided for general information purposes only and do not constitute legal or other professional advice on any subject matter. Nutrtiousfruit.com does not accept any responsibility for any loss, which may arise from reliance on information contained on this website. The information and references in this website are intended solely for the general information for the reader. The content of this website are not intended to offer personal medical advice, diagnose health problems or to be used for treatment purposes. It is not a substitute for medical care provided by a licensed and qualified health professional. Please consult your health care provider for any advice on medications.

Didn't find what you were looking for? Search here...
Custom Search
Amazon Search Box:
Did you like this page?