Guavaberries: Origins - Consumption - Nutrition Facts - Health Benefits
Contents
Geographic origin and regions grown
History of consumption
Common consumption today
Nutrition Facts: Vitamins, minerals and phytochemical components
Health Benefits: Medicinal uses based on scientific studies
Bibliography
Geographic Origins and Regions Grown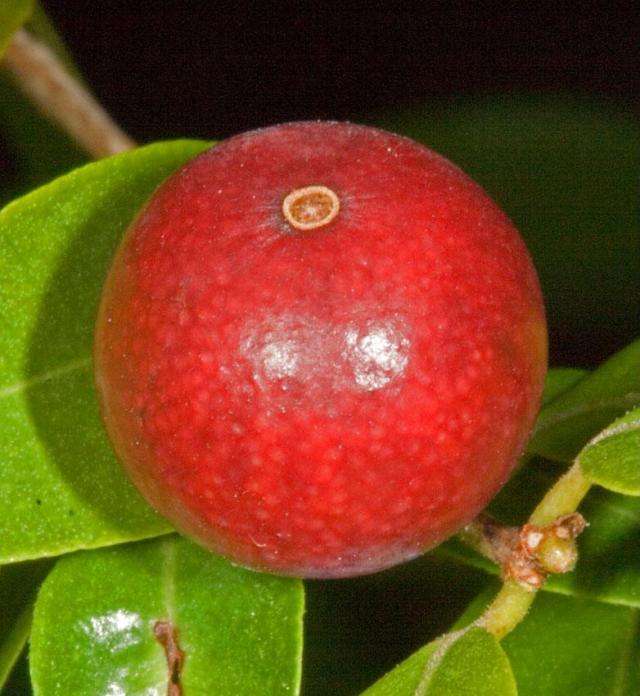 The guavaberry plant is a fruit tree that originated in the Caribbean and is now found wild in many locations including Central and South America, Cuba, Dominican Republic, Haiti, Jamaica, Puerto Rico, and islands of the Lesser Antilles. Its cultivation has even expanded to Bermuda and the Philippines. In the US it is present in Hawaii and Florida where it is often referred to as the rumberry. It is not to be confused with the guava and in reality is a relative of sorts to the clove and eucalyptus plant.
It is a warm climate tree or shrub that grows well in rocky terrain and can reach anywhere from thirty-three up to sixty feet high. The red-brown branches produce small pink and white flowers before bearing fruit approximately a half-inch or under. The fruit color ranges from a yellow-orange hue to dark-red with little pulp encircling a single seed. It is a temperamental tree often not bearing fruit due to high winds and insect infestation. Under favorable conditions the trees can bear fruit during various times of the year. For tropical plant enthusiasts, it can be grown indoors. As an indoor shrub it can potentially reach a height of about six feet.
History of Consumption
Years ago, the most common of commodities were guavaberry wines and rums. During the late 1800's many countries saw profit in exporting the product to Denmark. However that is where it ended and it is hard to find this popular local staple in places other than the Caribbean.
Due to its sweetness, the liquor is usually mixed with other beverages. It can also enhance the flavor of many sauces and desserts when cooking. Holiday traditions in certain countries require that you carol from door to door singing for a taste of your neighbors' guavaberry liquor as each of them might have a unique recipe for one to sample.
Common Consumption Today
Today guavaberry can be found in jams, juices, liquors, desserts (including ice cream), and sold by herbalists to make a syrup that can be used to treat liver conditions. Guavaberry liquor, which is made from rum, is a common Christmas drink on many islands, like Saint Maarten and the US Virgin Islands (2). 
As a matter of fact, most tourists reap the benefits of consuming alcoholic beverages that contain guavaberries while traveling. However, armchair travelers are more likely to find guava juice in supermarkets, but this juice is not related to the guava fruit. If a person searches hard enough they can usually locate a market that sells guavaberry products in addition to guava products and a vast supply of guavaberry recipes are currently circulating on the Internet.
Nutrition Facts: Vitamins, Minerals and Phytochemical Components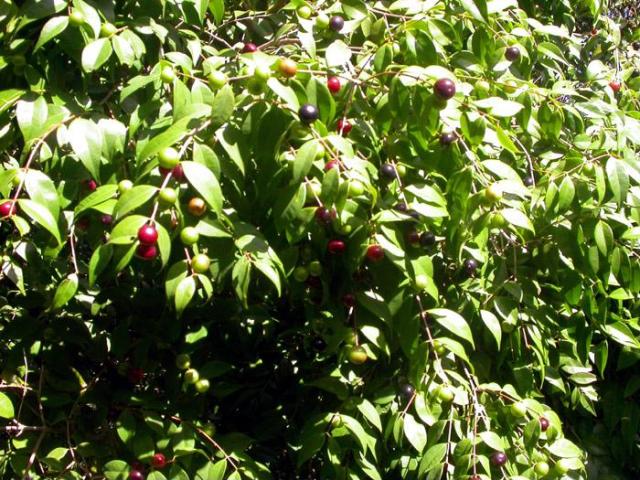 Guavaberries contain levels of vitamin C that are perhaps thirty times higher than oranges and provide B vitamins and minerals including iron (3). It also contains ash, calcium, carbohydrates, fiber, iron, niacin, phosphorus, protein, riboflavin, and thiamin.
Health Benefits: Medicinal Uses Based on Scientific Studies
Scientific studies will eventually catch up to the countries and cultures that have utilized this treasured resource for years. Right now, the guavaberry is not studied in detail as its closest relative the camu-camu, would be the next likely candidate that would thrive if given the opportunity in our markets. 
Preliminary studies have recently shown that higher levels of vitamin C consumption possibly lower the risk of heart disease and stroke. In addition, the findings from various studies indicate that low blood levels of vitamin C can indicate a potential increase in the risk for both heart disease and stroke (1).
Finally, the consumption of the guavaberries may help prevent certain types of cancer, improve cardiovascular health, decrease the development or severity of cataracts, and can fight the common cold. Unfortunately to date, not many scientific studies with data to validate the benefits of consuming the guavaberry are available.
Bibliography
1. Duke, J. (2005). Dr. Duke's Phytochemical and Ethnobotanical Databases. CRC Handbook of Medicinal Herbs and/or CRC Handbook of Proximate Analysis.
2. Joslin, K. (2006). Guavaberry Liqueur. Interactive Internet Websites, Inc. Retrieved on January 25 2008 from http://www.ezinearticles.com/?Guavaberry-Liqueur&id=269092
3. Yang J. (2006). Benefit of Vitamin C Ascorbic Acid. Body Building for You, Inc. Retrieved on January 24 2008 from http://www.bodybuildingforyou.com/vitamins-minerals/vitamin-c-ascorbic-acid.html
Disclaimer
Nutritiousfruit.com provides this website as a service. Although the information contained within the website is periodically updated, no guarantee is given that the information provided is correct, complete, and/or up-to-date. The materials contained on this website are provided for general information purposes only and do not constitute legal or other professional advice on any subject matter. Nutrtiousfruit.com does not accept any responsibility for any loss, which may arise from reliance on information contained on this website. The information and references in this website are intended solely for the general information for the reader. The content of this website are not intended to offer personal medical advice, diagnose health problems or to be used for treatment purposes. It is not a substitute for medical care provided by a licensed and qualified health professional. Please consult your health care provider for any advice on medications.

Didn't find what you were looking for? Search here...
Custom Search
Amazon Search Box:
Did you like this page?