Green Grapes: Origins - Consumption - Nutrition Facts - Health Benefits
Contents
Geographic origin and regions grown
History of consumption
Common consumption today
Nutrition Facts: Vitamins, minerals and phytochemical components
Health Benefits: Medicinal uses based on scientific studies
Bibliography
My favorite time for eating green grapes was after I'd been out running or cycling. There was something so satisfying and replenishing about their sweet juiciness, their texture and the very convenience of these tasty morsels. Of course the major use of grapes is in wine making with both red and white wines adding delight to great food and company.
Geographic Origins and Regions Grown

The green grape, also called Sémillon and Wyndruif, is cultivated in France, Australia, Chile, Argentina, South Africa, and New Zealand just to name a few places. The Sémillon variety is a golden-skinned grape used to make dry and sweet white wines, most notably in France and Italy.
The history of the Sémillon grape is not very east to trace. Some say this grape first arrived in Australia in the early 1800's. By the 1820's the grape covered over 90 percent of South Africa's vineyards. In South Africa it was known as Wyndruif, meaning "wine grape". It was once considered to be the most planted grape in the world, however today this is no longer the case. Today, Sémillon accounts for just 1% of South African Cape vines. 
The Sémillon grape's fruit is easy to cultivate. The Sémillon grape vines are vigorous producers as they consistently bear six to eight tons of grapes per acre. The grape grows well in warmer climates, ripens early during the season, and acquires a pinkish hue. With the exception of rotting after time, green grapes are fairly resistant to disease. 
On the other hand, Sémillon grapes have a thin skin that burns easily when exposed to intense sunlight in hotter climates. The Sémillon grape is rather heavy in comparison to other grapes, has a low acidity, and an almost oily texture. It has a high yield and wines based on this grape can age over a long time.
Along with Sauvignon Blanc and Muscadelle, Sémillon is one of only three approved white wine varieties in the Bordeaux region. The grape is also often used as the base for sweet wines such as those in Sauternes and Barsac.
History of Consumption
Sémillon is the major white grape in Bordeaux, Graves, and Sauternes. Today Australia's major white varieties are Chardonnay and Sauvignon Blanc. However, during the country's viticultural development its major variety was the Sémillon, at this time it was mistakenly called Riesling.
In France, the Sémillon grape is grown mostly in Bordeaux where it is blended with Sauvignon Blanc and Muscadelle. When dry, it is referred to as Bordeaux Blanc and in this form its production is permitted in the appellations of Pessac-Léognan, Entre-deux-mers, and other less-renowned regions.
When the Sémillon is dry it is generally a minor constituent in the wine's blend. However, when used to make the sweet white wines of Bordeaux (such as those from Sauternes and Barsac) it is often the dominant constituent. In such wines the vine is exposed to the "noble rot" of Botrytis cinerea which consumes the water content of the fruit and concentrates the sugar that is present in its pulp. When exposed to Botrytis cinerea, the grapes shrivel and the acid and sugar levels intensify.
The Sémillon is widely grown in Australia, particularly in both the upper and lower Hunter Valley (north of Sydney) where, for a long time it was known as "Hunter River Riesling". There are four styles of Sémillon-based wines made there. The first is a commercial style, often blended with Chardonnay or Sauvignon Blanc.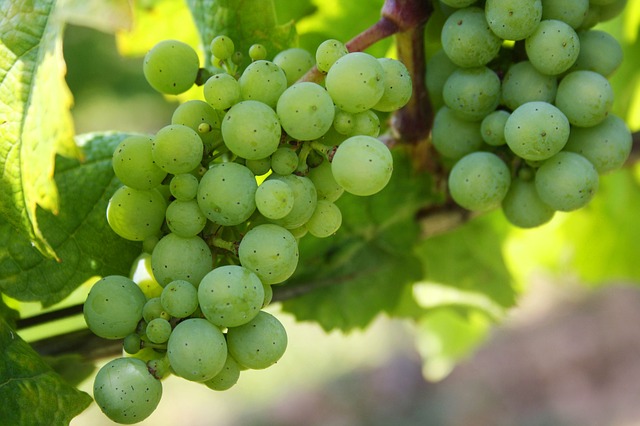 The second is a sweet style that is made with Sauternes. The third style is made from grapes picked early in the season and has great longevity. The fourth is an equally high-quality style that can be released soon after vintage.
This style can also be bottle-aged, or allowed to mature in a vat. The Hunter Valley Sémillon is never matured in an oak though. The latter two styles, which were pioneered by Lindemans, Tulloch, McWilliams's Mount Pleasant, Drayton's, and Tyrrell's are considered unique to Australia. 
The bottle-aged variety of the Hunter Valley Sémillons usually have a yellow color and smell like burnt toast and honey to the nose. This combination of flavors is very pleasing to the palate because it has a soft acidic taste and a long finish. Hunter Valley Sémillons that grow during the cooler years seem to be the most highly sought after with some of the 1974 and 1977's still drinking well.
The newer, fruit-accentuated styles, are championed by the likes of Iain Riggs at Brokenwood and The Rothbury Estate. Sémillon is also finding favor with Australian producers outside of the Hunter Valley in the Barossa Valley and Margaret River regions. 
Outside of these regions, however, Sémillon is unpopular and often criticized for its lack of complexity and intensity. As a result, plantings of Sémillons have decreased in these regions over the last century. As earlier stated however, the grape can still be found in South Africa and Chile.
The latter is presumed to have the largest plantings of this grape, although the number of acres planted with Sémillon often fluctuates. California growers plant the Sémillon primarily to blend it with the Sauvignon Blanc. The grape is also planted in Argentina and recently in New Zealand.
Common Consumption Today
Similar to other varieties of grapes, the green grape can be eaten fresh or frozen, in yogurts and salads, as well as dried to make raisins or fermented to make wine. They can also be used to make jelly and pies.
More recently, a beverage called grape lemonade has risen in popularity as being a great thirst quencher. In addition, fresh or frozen grape juice is currently used as a sweetener for fresh fruit cocktails. Any type of grape can be used to make lemonade or added as a sweetener to various beverages.
Nutrition Facts: Vitamins, Minerals and Phytochemical Components
Grapes contain vitamin C, fiber, potassium, and antioxidants. Resveratrol and ellagic acid can be found in the skin (red grapes) and seed of grapes. Both of these substances are antioxidants that according to the American Institute for Cancer Research, may prevent, reverse, and slow down genetic mutations that normally cause cancer. Check out the following link for full nutrition details...
Health Benefits: Medicinal Uses Based on Scientific Studies
The medicinal uses for the green grape are similar to that of any other grape. Resveratrol is found in various types grape varieties, primarily in their skins and seeds. Muscadine grape skin, have a concentration of resveratrol that is about one hundred times higher than that of its pulp (5).
In fact, fresh grape skin contains about 50 to 100 micrograms of resveratrol per gram (13). These compounds have also been positively linked to fighting cancer, heart disease, degenerative nerve disease, and other ailments (1).
Synthesized by many plants, resveratrol apparently has antifungal and other defensive properties (4). Dietary resveratrol has been shown to modulate the metabolism of lipids and inhibits oxidation of low-density lipoproteins (LDL) and the aggregation of platelets in animal models but its clinical benefits need to be studied more intensely before one can conclude that grapes definitely could improve heart and blood vessel function (3).
The addition of grape extracts to the diet has also been linked to decreasing the activity of angiotensin; a systemic hormone that causes blood vessel constriction (6). Angiotensin has been shown to stimulate the upregulation of nitric oxide, which is a vasodilator hormone. Another name for nitric oxide is endothelium-derived relaxing factor (6). Proper regulation of these compounds could lead to potent control and maintenance of reduce blood pressure.
 Recent studies have shown that grape seed constituents like tannins, polyphenols, and polyunsaturated fatty acids, display inhibitory effects on several experimental disease models including cancer, heart failure, and other disorders that result from oxidative stress (7-12). In addition, grape seed oil from crushed seeds is used for many perceived health benefits (2).
Bibliography
1. American Cancer Society. (1974) Unproven methods of cancer management: Grape diet. A Cancer Journal for Clinicians, 24:144-146.
2. Bagchi D, Bagchi M, Stohs SJ, Das DK, Ray SD, Kuszynski CA, Joshi SS, Pruess HG. (2000) Free radicals and grape seed proanthocyanidin extract: importance in human health and disease prevention, Toxicology, 148(2-3):187-197.
3. Hitti Mi. (2004) Grapes may cut cholesterol and blood fats. Retrieved on October 23, 2007 from http://www.webmd.com/cholesterol-management/news/20040827/grapes- may-cut-cholesterol-and-blood-fats.
4. Jung HJ, Hwang IA, Sung WS, Kang H, Kang BS, Seu YB, Lee DG.Fungicidal effect of resveratrol on human infectious fungi. (2005) Archives of Pharmacalogical Research, 28(5):557-60.
5. LeBlanc MR. (2005). Cultivar, juice extraction, ultra violet irradiation and storage influence the stilbene content of muscadine grapes (Vitis rotundifolia michx.). Ph.D. Dissertation, Louisiana State University.
6. Opie LH, Lecour S. (2007) The red wine hypothesis: from concepts to protective signalling molecules. European Heart Journal 28(14):1683-93.
7. Ruano-Ravina A, Figueiras A, Barros-Dios JM. (2004) Type of wine and risk of lung cancer: A case-control study in Spain. Thorax, 59:981-985. 
8. Schoonen WM, Salinas CA, Kiemeney LA, Stanford JL. (2005) Alcohol consumption and risk of prostate cancer in middle-aged men. International Journal of Cancer, 113:133-140. 
9. Sharma G, Tyagi AK, Singh RP, Chan DC, Agarwal R. (2004) Synergistic anti-cancer effects of grape seed extract and conventional cytotoxic agent doxorubicin against human breast carcinoma cells. Breast Cancer Research and Treatment, 85:1-12. 
10. Singh RP, Tyagi AK, Dhanalakshmi S, Agarwal R, Agarwal C. (2004) Grape seed extract inhibits advanced human prostate tumor growth and angiogenesis and upregulates insulin-like growth factor binding protein-3. International Journal of Cancer, 108:733-740. 
11. Veluri R, Singh RP, Liu Z, Thompson JA, Agarwal R, Agarwal C. (2006) Fractionation of grape seed extract and identification of gallic acid as one of the major active constituents causing growth inhibition and apoptotic death of DU145 human prostate carcinoma cells. Carcinogenesis. 27:1445-1453.
12. Wang CZ, Mehendale SR, Yuan CS. (2007) Commonly used antioxidant botanicals: active constituents and their potential role in cardiovascular illness. American Journal of Chinese Medicine, 35(4):543-558. 
13. Wikipedia, the free encyclopedia. (2007) Resveratrol Retrievd from http://en.wikipedia.org/wiki/Resveratrol on December 9, 2007.
Disclaimer
Nutritiousfruit.com provides this website as a service. Although the information contained within the website is periodically updated, no guarantee is given that the information provided is correct, complete, and/or up-to-date. The materials contained on this website are provided for general information purposes only and do not constitute legal or other professional advice on any subject matter. Nutrtiousfruit.com does not accept any responsibility for any loss, which may arise from reliance on information contained on this website. The information and references in this website are intended solely for the general information for the reader. The content of this website are not intended to offer personal medical advice, diagnose health problems or to be used for treatment purposes. It is not a substitute for medical care provided by a licensed and qualified health professional. Please consult your health care provider for any advice on medications.

Didn't find what you were looking for? Search here...
Custom Search
Amazon Search Box:
Did you like this page?